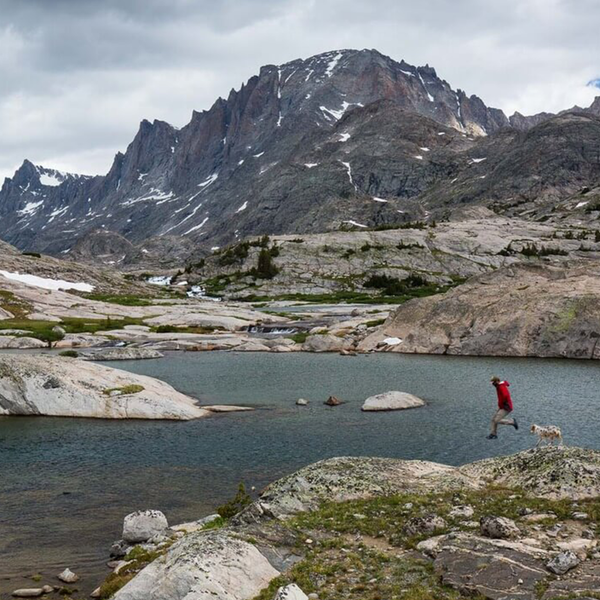 Roaming Nomads
Roaming Nomads: Life on the Road
A camper trailer in the woods, a smoking pit fire, the scent of steak frying for dinner, two dogs—silky Labrador Retrievers—tumbling in the foreground. A warm coffee in his hand, Andrew Slaton leans back in his deck chair, gazes over snowcapped mountains, and talks about his new life.
We've all imagined selling up and hitting the road. Meet a man who's done it. A commercial landscape and active lifestyle photographer, Andrew took just this drastic step with his wife Ellen a year ago. Young professionals with everything drawing them to the suburban grind, Andrew and Ellen threw it all in for a life on the move.
"We both have this insatiable wanderlust—we've had it all our lives," Andrew grins, deepening the gentle creases in his tanned face. "I guess it worked out well that we got married". The pair had lived around Dallas all their lives, "but we love to travel. It got so bad we'd spend half of every month on the road, and when we'd get back we'd spend all our time getting set to take off again".
Radical as a life of constant travel seems, neither Andrew nor Ellen is a stranger to alternative living. Growing up with a father who worked as a freelance graphic designer, Andrew feels comfortable with uncertainty. "I understand feast or famine. It's the freelance life," he says. "Ellen's definitely had to adjust, but she can roll with the punches".
For two years, Andrew and Ellen watched as Ellen's sister traveled the countryside, transporting two kids, two dogs and a cat in a travel trailer as she followed her husband, whose work in the oil industry had him in constant transit. Eventually, the couple took the plunge. "We weren't really interested in accumulating a whole bunch of stuff or having kids," Andrew says. "We'd seen it done so we knew we could do it. What was holding us back?"
The couple held a garage sale, and gave the rest of their belongings away. "We bought a truck and travel trailer, packed up what we'd kept and set out with our dogs. Now, we just follow the work, and when there's not a lot of work going, we go where the mood takes us and I shoot stock imagery," Andrew says.
The adventure hasn't been without risk. "It's the most difficult thing either of us has done in our lives, but it's also been the most rewarding," Andrew says. "My work is totally freelance. I've had to forgo 60% of my regular income, the weddings and commercial jobs based back in Texas," Andrew says. "But we'll spend the winter in Florida, if we feel like it, waste our time on beaches, and wandering through swamps, chasing alligators.
When he's not chasing gators, Andrew runs a successful practice teaching photography workshops in national parks across the US. Last year, these workshops took Andrew and Ellen on an international road trip as Andrew taught photography workshops in Scotland. "We stayed in hotels part of the time, and then for two weeks we took off car camping. We used the tent whenever the weather was fine, and I shot landscapes and lifestyle footage across the country".
It was this trip that introduced Andrew and Ellen to all-American cooler manufacturer, KONG. "Being a photographer I have a lot of gear. I have to be really selective about what I take. When KONG got behind us with a cooler for the trip, it made a lot of sense. We took the smaller model, the 25, which worked well for Europe, because everything over there is tiny—the roads, the cars, the lot. The 25 just slipped right into the back of the car."
Andrew hasn't always been this discerning about his belongings. "Before we sold up and took off, I was just two steps shy of a horder," he chuckles. I had a garage full of stuff I didn't need and it was hard to let go. Once I did, it was freeing". Andrew's inspired, he says, by a Japanese approach to minimalism, known as KonMari. "Take each thing you own, hold it in your hand and if it brings up any negativity at all, or if you haven't touched it in 6 months, toss it".
So, has the KONG made the cut? "Absolutely. My first impression of the cooler was that it's rugged and it's strong. Working out in the field, taking landscape shots, I've had a lot of coolers over the years. I could tell straight away that this one is going to last forever. It's just really well constructed".
KONG's grizzly bear certification is another draw for the photographer. "Teaching a lot in the national parks, I have to be responsible. It's great to know I can snap a padlock on the cooler, take a group out hiking, and we won't come back to bedlam," he smiles.
And speaking of forever, this life on the road, is this…forever?
"You nailed it," Andrew grins. "When we set out, we committed to one year. About 4 months in we looked at each other and said, 'let's do this forever—for as long as we possibly can'. Right now, it's about working out the kinks, coming up with a business model that we can sustain". And by the look in his eye, I'd say they might just make it.